About Our Master of Science Degree in Child & Adolescent Behavioral Health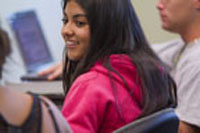 The Master of Science (MS) Degree in Child & Adolescent Behavioral Health (MSCABH) prepares professionals to serve in public and non-profit agencies and schools that work with diverse children and adolescents experiencing behavioral health challenges and their families. Surveys and interviews with potential employers have shown there is high demand for master's degree level graduates to fill positions such as directors, supervisors, and case managers in mental health, substance abuse, juvenile justice, developmental disability, and child welfare agencies, as well as consultants in schools and early education and care programs. Educational opportunities include advancement to doctoral programs in public health and the behavioral and social sciences. Download general flyer.
The unique and distinctive curriculum of the MSCABH:
focuses on children and adolescents with behavioral health challenges who interact with multiple service sectors and cross geographic and political boundaries
supports the development of a highly skilled, culturally competent workforce and professionals with high levels of education and training who are especially needed for administration of behavioral healthcare and related community services
provides interdisciplinary training and transformational learning opportunities that are intellectually and scientifically sound through a multidisciplinary faculty that is involved in cutting-edge research related to best practices and behavioral health policies.
Courses
This interdisciplinary program includes core courses and electives addressing emerging national priorities, including:
increasing diversity and leadership capacity in the behavioral health workforce
cross-training in prevention
increasing knowledge about developmental disabilities in combination with behavioral health, and
closing the research-to-practice gap through translational research education.
Related Programs in CFS